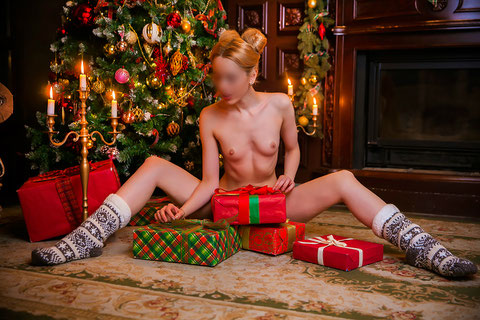 December has come and it means , that Christmas , my Birthday (who still doesn't know, I was born at 21.12 :) ) and New Year will come very soon :) Some of my clients like to make me happy at these special days :) Usually I receive a lot of messages with congratulations , but some guys also present me gifts. Of course, I appreciate their care and attention very much and I am happy to know, that they remember about me :) But sometimes it happen, when gentleman want to please me , but doesn t know, how to do it. So , I decided to help in this question and give some advices :)

  First of all, I kindly ask you do not present me lingerie. It s very easy to make a mistake in size( sizes in different brands are a bit different), so you will spend time and money and after this I will receive too small/too big bra or panties...Also, please, don't present me clothes or shoes(the same reason). Exceptions are:  peignoirs and stockings. For stockings my size is S(Falke) , 2/B(Agent Provocateur) or M(Wolford). For peignoirs my size is S.
If you want to bring me perfume, please, notice , that I prefer selective and niche perfumery. My favourite brands are : Amouage , Boadicea the Victorious, David Jourquin, Stephan Humbert Lucas , Micallef, Serge Lutens , Dorin. I prefer sweet,  balsamic , powdery , tobacco fragrances :)

  I am also a big fan of Louis Vuitton scarfs, shawls ,bags. These gifts will be also appreciated.

  I am happy to receive sertificats to SPA, as I like SPA.

  Sex toys will be also appreciated:) I like to play with toys :))) But, plz, choose small or medium size:)

  I like white wine, champagne and milk/white chocolate(without almond).

  If we meet in Brussels or Luxembourg , please, dont present me flowers. Of course, as a real woman , I like them, but during my trip I change my location from time to time, so it s uncomfortable to travel with bouquets...But if we meet in Petersburg or Tallinn, my favourite flower is white lily:)

  Books in English will be also appreciated. I prefer classic literature. If you want to present me a book in German, please, choose smth. very simple, like fairytales or textbooks(my level is A2 or basic).

And , of course, even simple message with sincere congratulation will be also appreciated! I am happy to know,that you remember about me:)

P.S. Any gifts are not expected , but will be definetly appreciated.